Google Smart Home Summit on July 8 is perfect for announcing the new Android TV Chromecast
<!–– ERROR Retrieving Feed 2872 ––> 2513 Imported from a malfunctioning feed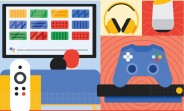 Another upcoming Google product that isn't the Pixel 4a has been leaking a lot lately, and that is the upcoming Android TV-powered new Chromecast dongle, codenamed Sabrina. Unlike past Chromecasts, this will run Android TV and thus have that OS' full interface.

Not only that, but it will have a smart remote with Google Assistant - which brings us to the fact that the search giant is holding a Smart Home Summit online on July 8.



The company hasn't explicitly mentioned that it wants to unveil new hardware on that occassion, but it would be weird if this was just a coincidence. The new...
<!––NOFDP 2825 ––>