OnePlus Nord will cost under $500, prototypes shown in new video
<!–– ERROR Retrieving Feed 2872 ––> 2513 Imported from a malfunctioning feed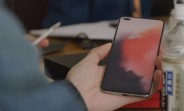 The OnePlus Nord will go on a limited pre-sale tomorrow even though there's no confirmation on its actual launch date. Now, the company posted the first part of its short documentary which details the process behind the creation of the Nord smartphone and it brings several noteworthy bits of information. First off, OnePlus CEO Pete Lau confirmed that the upcoming phone will come with a sub $500 price tag.

View this post on Instagram A post shared by OnePlusLiteZThing (@onepluslitezthing) on Jun 30, 2020 at 5:01am PDT

In addition, we also see two prototypes of the...
<!––NOFDP 2825 ––>