Oppo Reno4 Pro unveiled with Snapdragon 720G, 6.5" 90Hz AMOLED screen, 65W fast charging
<!–– ERROR Retrieving Feed 2872 ––> 2513 Imported from a malfunctioning feed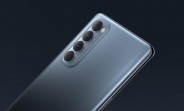 The fourth generation of Oppo's mid-range Reno series is going global, though with some alterations. The Oppo Reno4 Pro increases performance across the board compared to its predecessor, the Reno3 Pro, with better performing chipset, screen, camera and battery. Don't get it mixed up with the Chinese Reno4 Pro though, as there are some major differences, which we'll get to in a second.

To give you the short version, the global Reno4 Pro has a bright 90Hz AMOLED display, a Snapdragon 720G chipset, 48MP main camera and 65W fast charging. Now let's dive into the details.

The 6.5" E3 Super...
<!––NOFDP 2825 ––>