Analysts: Huawei lead Q2 smartphone market, but Apple gained the most
<!–– ERROR Retrieving Feed 2872 ––> 2513 Imported from a malfunctioning feed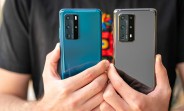 With the second quarter well behind our backs, reports from analysts start pouring in. Yesterday Canalys reported that Huawei surpassed Samsung and took the top step, and today two other agencies confirmed the lead switch - Counterpoint Research and Omdia.

According to both, Samsung was affected the most by the COVID-19 pandemic and subsequent lockdowns, its sales going down over 25% on a yearly basis. In the same time, Apple was the only major player to increase shipments both on a quarterly and yearly basis.

Omdia's numbers also show Tecno growing, while the rest of the top 10 all...
<!––NOFDP 2825 ––>