Sony to unveil WH-1000XM4 headphones on August 6
<!–– ERROR Retrieving Feed 2872 ––> 2513 Imported from a malfunctioning feed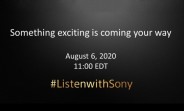 Sony confirmed it's hosting an audio-related launch event on August 6 where and it's highly likely we'll see the debut of its WH-1000XM4 headphones. The keynote is scheduled to kick off at 3 PM UTC and Sony is boasting a #ListenWithSony slogan which confirms the product (or products) will be audio-oriented.

Save the date ? 8.6.2020 ? Join Sony Electronics' Live Stream event to watch the unveiling of our latest innovation. #ListenWithSony https://t.co/gLe9EF1hUC pic.twitter.com/9I6Q3DJiEg— Sony Electronics (@SonyElectronics) July 30, 2020

Back in June, we saw a listing for the XM4...
<!––NOFDP 2825 ––>