New Oppo Watch goes global with SD3100 chipset, WearOS
<!–– ERROR Retrieving Feed 2872 ––> 2513 Imported from a malfunctioning feed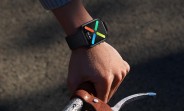 Earlier this month Oppo Germany published the specs of the international Oppo Watch, but today we are getting a proper announcement. The global Oppo Watch may share the name with its Chinses counterpart, but has significant differences on the inside.

The global Oppo Watch comes with two chipsets - the Qualcomm Snapdragon 3100 Wear, which helps it run Wear OS and the Ambiq Micro Apollo 3, which powers the proprietary system of what Oppo calls low-power mode.



The Oppo Watch is available in two sizes, 46 mm and 41 mm, with the first one having a 1.91" AMOLED screen with 402 x 476...
<!––NOFDP 2825 ––>