OnePlus 6 and 6T get July security patch and OnePlus Buds support with the latest update
<!–– ERROR Retrieving Feed 2872 ––> 2513 Imported from a malfunctioning feed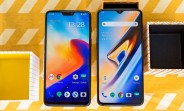 OnePlus rolled out OxygenOS updates for the OnePlus 8 and OnePlus 8 Pro last week that brought OnePlus Buds support for the 2020 flagships. Now it's time for the OnePlus 6 and OnePlus 6T to get deeper integration for OnePlus' first TWS earphones with the OxygenOS 10.3.5 update.


OnePlus 6 (left) and OnePlus 6T (right)

In addition to OnePlus Buds support, the new build also comes with the July 2020 Android security patch, with the GMS package level bumped up to May 2020. Besides, the update optimizes the RAM management and squashes a few bugs. You can check out the full changelog of...
<!––NOFDP 2825 ––>