First mention of Google "Pixel 5a" appears in AOSP
<!–– ERROR Retrieving Feed 2872 ––> 2513 Imported from a malfunctioning feed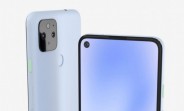 Google has finally confirmed that a Google Pixel 4a would be arriving on August 3 and even teased the device on Thursday. On Friday, 9to5Google's own Dylan Roussel spotted a mention of Google's Pixel 5a. This was spotted in a code change on Google's Android Open Source Project or AOSP.

We are still waiting for the Google Pixel 5, which may not be released until later this year, but now we know that the 5a is now in development. The code change mentions devices since the Pixel 2, along with the version of Android they (launched/will launch) with.






The Pixel 4/4a are listed with...
<!––NOFDP 2825 ––>