Galaxy S20 Ultra is $400 off this weekend, other Samsung phones on offer too
<!–– ERROR Retrieving Feed 2872 ––> 2513 Imported from a malfunctioning feed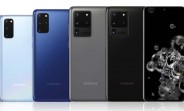 If you're in the US and have been eyeing Samsung's Galaxy S20 Ultra but haven't bought one yet, and if you don't mind using it on Verizon, this is definitely one for you. This weekend, Best Buy is taking $400 off the price of the device, if you activate it with Verizon.

As usual with these types of deals, you'll have to grab the smartphone on the carrier's monthly installment plan. You will be paying $36.66 each month for two years, bringing the grand total to $879.84, which is the best price we've seen for the S20 Ultra so far.



It's not the only Samsung handset that's on offer,...
<!––NOFDP 2825 ––>