Flashback: the Sony Ericsson K800 was as versatile as James Bond and the first Cyber-shot phone
<!–– ERROR Retrieving Feed 2872 ––> 2513 Imported from a malfunctioning feed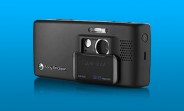 The Sony Ericsson K800 was a phone with many faces. From one angle it looked like a Cyber-shot digital camera, from another like a phone, look at the left side and you'll see a button for the music player, inside was a capable graphics chip for 3D gaming.

It was released in mid-2006 and became the first Sony Ericsson phone to officially sport the Cyber-shot logo. It deserved it too, as the 3.2 MP camera on its back was among the best mobile shooters of the time. It was covered up with a sliding lens cover that automatically launched the camera when opened.



The phone really did look...
<!––NOFDP 2825 ––>