Dark mode for Google Maps begins rolling out for some Android users
<!–– ERROR Retrieving Feed 2872 ––> 2513 Imported from a malfunctioning feed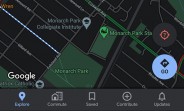 A dark theme is making its way to Google Maps as some users are reporting. Google is rolling out an app-wide dark mode to Google Maps as of version 10.51.1 running on Android 11.

It seems the change is gradually rolling out on the server side as updating to the latest version of Google Maps is not enough to see the option appear in the app's settings menu.

The appearance setting in the app will let you force the dark theme indefinitely or match the Android phone's universal system theme setting.


Source: Reddit u/BrokenF*ckenArm

There has always been an automatic night-mode that...
<!––NOFDP 2825 ––>