T-Mobile will offer the Motorola Razr 5G for half off
<!–– ERROR Retrieving Feed 2872 ––> 2513 Imported from a malfunctioning feed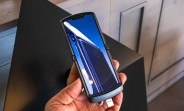 Motorola made the new Razr 5G official earlier this month, and now it's almost ready to hit T-Mobile. That's actually one of its main differentiating points from its predecessor (aside from the improved internals) - the original foldable Razr was Verizon exclusive, the Razr 5G isn't.

Anyway, back to T-Mobile. You'll find the device in stores at the magenta carrier, in Polished Graphite and Blush Gold, starting on October 2. The Razr 5G is priced at $1,399.99 full retail, and you can get it with 24 monthly installments of $58.34.



However, if you activate a new line and trade-in an...
<!––NOFDP 2825 ––>