Gboard for Android TV gets a redesign
<!–– ERROR Retrieving Feed 2872 ––> 2513 Imported from a malfunctioning feed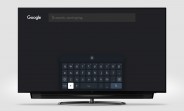 Google is rolling out an updated version of Gboard for Android TV. The update seems to be rolling out server-side, so installing the latest version of the app doesn't seem to help at the moment.



The main change in this update is a complete redesign of the keyboard. Previously, Gboard would span the entire width of the display when it popped up on the bottom. The new design looks much like what it does on phones, with a narrower design that doesn't take up as much space.





Oddly enough, some apps will still stretch the keyboard background across the width of the screen, even...
<!––NOFDP 2825 ––>