Oppo teases 4K 120Hz TV, coming next month
<!–– ERROR Retrieving Feed 2872 ––> 2513 Imported from a malfunctioning feed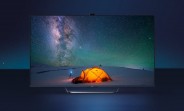 Oppo is teasing a new TV that will be capable of displaying 4K video at 120 fps. It has partnered with 8KRAW to compile stunning footage of natural scenes with vivid colors that highlight the capabilities of the TV.

The new model will be released next month, but so far the company is keeping mum on the details. Here's the video we mentioned, only in 720p, but you'll need a 4K 120 fps capable display to enjoy it in its full splendor, anyway.



Leakster Digital Chat Station does have some unofficial info. The Oppo Smart TV will be available in 55" and 65" sizes. Both versions will use...
<!––NOFDP 2825 ––>