Huawei power bank charging at 66W certified, ahead of Mate 40 launch
<!–– ERROR Retrieving Feed 2872 ––> 2513 Imported from a malfunctioning feed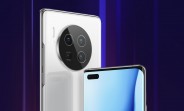 A famous Weibo leakster just shared an entry from the Compulsory Certification of China database showing a Huawei power bank capable of charging at up to 66W speeds. And while that's nice enough on its own, the more exciting bit might be that there's no current Huawei smartphone supporting that kind of charging speed, so it's likely meant for the upcoming Mate 40-series.



Screenshot from 3C

Previously the company got a certificate for a 66W charger, so at this point it's almost certain that at least one of the Mate 40 phones will come with 66W charging support.

Back to the power...
<!––NOFDP 2825 ––>