Google Pixel 5 and Pixel 4a 5G: what to expect
<!–– ERROR Retrieving Feed 2872 ––> 2513 Imported from a malfunctioning feed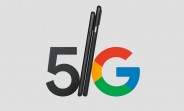 It's that time of the year when brands are rushing to unveil their new products ahead of the holiday season. Google is next in line with the Pixel 5 and Pixel 4a 5G and we've made a summary of all the leaks and rumors in one place for your convenience in preparation for tomorrow's event.

Alongside the two phones, we're also expecting the announcement of a revised Chromecast (which you can already buy) as well as a new Nest Home speaker for your home entertainment needs.

Pixel 5

Despite its incremental name change, the Pixel 5 marks a new directions for the lineup. We won't see a...
<!––NOFDP 2825 ––>