Watch the Google Pixel 5 and Pixel 4a 5G live stream here
<!–– ERROR Retrieving Feed 2872 ––> 2513 Imported from a malfunctioning feed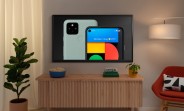 Tonight's the night – Google will fully reveal the Pixel 5 and Pixel 4a 5G, plus a couple of new smart home accessories. You can read our article on what to expect for all the preliminary details we have on the upcoming phones.

Long story short, both will have 5G modems and neither will be a flagship as GOOG tries to reinvent the series. As for the smart home stuff, the new Chromecast will have beefier hardware along with a new remote with dedicated YouTube and Netflix buttons. A new Nest Home speaker is on the way as well.

The stream starts at 18:00 UTC and you can follow it...
<!––NOFDP 2825 ––>