Moto Razr 5G can survive 100 flips a day for 5 years, its tech is covered by 100+ patents
<!–– ERROR Retrieving Feed 2872 ––> 2513 Imported from a malfunctioning feed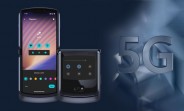 Motorola revamped the reborn Razr phone – it upgraded the chipset and camera, it also designed the patented "zero-gap" hinge. That hinge allows the screen to close so tightly that you can't even slide a piece of paper through it.

For increased durability, the hinge is made out of stainless steel (while the frame is 7000 series aluminum). Motorola's mechanized tests show that the hinge can go through 200,000 flips – that's over five years of use even if you flip open your phone 100 times a day.

Watch Moto engineers put #razr5G to the non-stop flip test in this behind-the-scenes look at...
<!––NOFDP 2825 ––>