Samsung Galaxy S21 gets certified on 3C with 25W charging
<!–– ERROR Retrieving Feed 2872 ––> 2513 Imported from a malfunctioning feed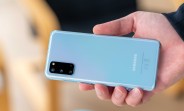 With the Note20 lineup already globally available Samsung is now focusing on its next big thing - the Galaxy S21 lineup. The company has acquired 3C's approval for a phone with the model number SM-G9910 which is likely the vanilla Galaxy S21. The listing reveals 25W charging, matching the Galaxy S20's capabilities.



We are pretty sure this is the smallest Galaxy S21 because of the model number - the Galaxy S20 arrived with SM-G981X model codes. The last symbol, in this case the digit 0, indicates the market where a certain device is heading to.

Sadly, the listing does not say...
<!––NOFDP 2825 ––>