OnePlus co-founder Carl Pei officially announces he is leaving the company
<!–– ERROR Retrieving Feed 2872 ––> 2513 Imported from a malfunctioning feed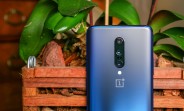 Earlier this week, reports sparked of OnePlus co-founder Carl Pei's apparent departure from the company. As of Friday, the news is official as per a farewell letter posted to the OnePlus forums.

Thank you. @PeteLau @oneplus https://t.co/2RD9AdyWhO— Carl Pei (@getpeid) October 16, 2020



After nearly 7 years at OnePlus, I've made the difficult decision to say goodbye.

I grew up spending tremendous amounts of time on the internet, building products and communities. Seeing that ideas in one's mind could be turned into reality and impact people's lives gave me lots of joy, and I knew...
<!––NOFDP 2825 ––>