Report: Samsung leads global smartphone sales in August, widens gap with Huawei
<!–– ERROR Retrieving Feed 2872 ––> 2513 Imported from a malfunctioning feed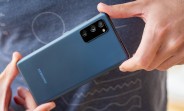 Counterpoint Research reports that in the month of August, Samsung has widened its market share gap with Huawei, making up 22% of global smartphone sales for the month. This, according to Counterpoint's latest Monthly Market Pulse report.

Compared to April of this year, Samsung gained 2% market share and Huawei is now at 16% after a record-breaking 21% share back in April.




Although the early summer months were tougher for smartphone makers, particularly as India went under lockdown, Samsung rebounded when the market reopened in July and August. Increasing tensions between Indian...
<!––NOFDP 2825 ––>