OnePlus 8T video teardown goes hunting for the two batteries inside
<!–– ERROR Retrieving Feed 2872 ––> 2513 Imported from a malfunctioning feed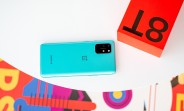 The OnePlus 8T became official this week, and we've already seen it subjected to JerryRigEverything's trademark 'durability test', right on the day of the event.

But what if you wanted to go deeper? Inside the device? To see what it looks like under all that fancy glass and metal? Well, for that purpose, the same Zack has you covered with this here teardown video, in which he goes hunting for the two batteries inside.



Two batteries has to do with how Warp Charge 65 works, itself merely a licensed Oppo technology. Think of this 65W system as two 32.5W systems working in parallel to...
<!––NOFDP 2825 ––>