Apple iPhone 12 and 12 Pro go on pre-order today, iPad Air tags along
<!–– ERROR Retrieving Feed 2872 ––> 2513 Imported from a malfunctioning feed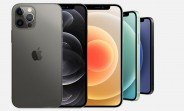 Apple opens up pre-orders for the 6.1-inch iPhone 12 and 12 Pro today. And for the first time the launch is going to go live simultaneously around the world. Apple's store is down in anticipation of the launch.

For the US, the start is at 5:00 am PDT, same for Canada. Moving east to the UK, the launch will be at 1:00 pm BST, a bit further to Germany go time is at 2:00 pm CEST, then moving all the way to Australia the start is set for 11:00 pm AEDT.

The Apple iPhone 12 and 12 Pro will go on pre-order today in more than 30 countries, including Australia, China, Germany, Japan, the UK, the...
<!––NOFDP 2825 ––>