The Sony Xperia Compact line might be making a return with a rumored 5.5-inch model
<!–– ERROR Retrieving Feed 2872 ––> 2513 Imported from a malfunctioning feed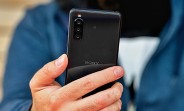 Sony has been keeping a surprisingly low profile lately. Still, information on upcoming smartphone releases started sipping through the cracks this month. Most-notably, with leaks regarding an upcoming Xperia 10 III, powered by the Snapdragon 690 – as an affordable 5G mid-ranger. A new rumor now sees the plot thicken further with talk of a potential new entry to the coveted Compact line of Xperia phones, coming in the first half of 2021.



Sony Xperia Compact with 5.5-inch display rumors


Just bringing-up the topic of Compact is already a cause for commotion in the Sony realm, seeing...
<!––NOFDP 2825 ––>