Samsung launches leather covers for the Galaxy Z Fold2, Galaxy Buds Live
<!–– ERROR Retrieving Feed 2872 ––> 2513 Imported from a malfunctioning feed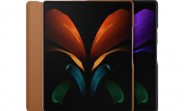 Today Samsung has officially launched leather covers for the Galaxy Z Fold2 and the Galaxy Buds Live in its home market of South Korea.

Of course, leather covers for phones are nothing new - even so, it's good to see one offered for the Z Fold2, as because of its form factor there haven't yet been as many cases out there for it as there are for other models.

You get two colors for the leather, to go with the two hues in which the foldable smartphone is sold.






Samsung Galaxy Z Fold2 leather cover

On the other hand, it's not every day that we see a manufacturer release a...
<!––NOFDP 2825 ––>