Apple and Facebook lock horns over data collection practices
<!–– ERROR Retrieving Feed 2872 ––> 2513 Imported from a malfunctioning feed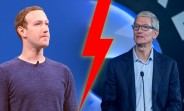 Apple has sent a letter to human rights watch groups in which it is reassuring the new iOS 14 will have new privacy restrictions. The company also said Facebook is "collecting user data with disregard of user privacy".

A response from Menlo Park came almost immediately, saying Apple is throwing a smoke bomb and trying to distract from other issues. The social network claimed Apple is using its dominant market position to self-preference its own data collection while making it nearly impossible for competitors to use the same data.



Apple has delayed the rollout of privacy...
<!––NOFDP 2825 ––>