Weekly poll results: the ideal screen size keeps growing
<!–– ERROR Retrieving Feed 2872 ––> 2513 Imported from a malfunctioning feed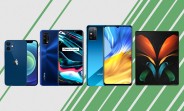 Back in 2016 our poll showed that the ideal screen size for a phone is between 5.0" and 5.3". A year later the result was the same with 5.2" getting voted to the top. But even back then it was clear that preferences were shifting towards larger displays. Last year we conducted a similar poll, which confirmed that – 6.0" became the most popular size.



Last week's poll shows that the trend has held and the 5.9-6.5" size category received the most votes. Judging by the comments, most people prefer to stick to closer to the 5.9" end than the 6.5" end.

The love for small phones has not...
<!––NOFDP 2825 ––>