Flashback: periscope zoom cams with smooth zoom are the future, but we already had them
<!–– ERROR Retrieving Feed 2872 ––> 2513 Imported from a malfunctioning feed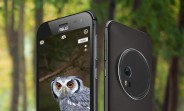 In 2019 the Huawei P30 Pro and Oppo Reno 10x zoom kicked off a zoom arms race with the introduction of the periscope telephoto lens – or should we say "re-introduction". One phone had a periscope several years ago and with a design that was more advanced than modern phones.

Currently, you can get a periscope-equipped phones from Huawei, Oppo, Samsung, Xiaomi, vivo and Honor. But they have two major downsides. One, they have very long focal lengths (100+ mm). And two, they are locked at that focal length.

This means that mid-range zoom requires either digital zoom with the main camera...
<!––NOFDP 2825 ––>