Beyond the phones: Our favorite gadgets of 2020
<!–– ERROR Retrieving Feed 2872 ––> 2513 Imported from a malfunctioning feed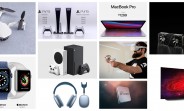 2020 was a really tough year, no question about it. The pandemic and ensuing economic crisis undoubtedly left its mark on most every part of life and the tech industry was no exception. Though, not necessarily in a strictly "doom and gloom" manner.

Surprisingly enough, 2020 proved to be an huge year for the computer realm in particular, with major advancements being made in both CPU and GPU performance. Granted, most of these tainted by huge stock shortages and unavailability. An unfortunately common reality for tech releases in 2020 as a whole.

But, we digress. Without further ado,...
<!––NOFDP 2825 ––>