2020 Winners and Losers: Xiaomi
<!–– ERROR Retrieving Feed 2872 ––> 2513 Imported from a malfunctioning feed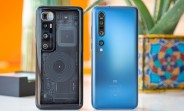 This year Xiaomi continued its march to the upper echelon of the smartphone industry. We saw the release of the brand's all-out flagships - the Mi 10 Pro and Mi 10 Ultra, record-breaking shipments numbers and an increased push in more European markets. Xiaomi now sits in third place by global smartphone shipments and continues to offer competitively priced devices in all corners of the market.

Winner - Xiaomi Mi 10 Pro

Like last year's barrage of Mi 9 series phones, 2020 brought plenty of options from the Mi 10 series. The Mi 10 Pro was Xiaomi's first take at an all-out flagship sparing...
<!––NOFDP 2825 ––>