2020 Winners and Losers: OnePlus
<!–– ERROR Retrieving Feed 2872 ––> 2513 Imported from a malfunctioning feed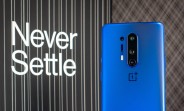 OnePlus became a different company this year. It had been gradually opening up to a wider product line, first with the mid-season T-upgrade, then with the introduction of Pro models. However, in 2020 the door swung all the way open and through it walked not only a mid-ranger, but even an entry-level phone.

Winner: OnePlus 8 Pro

There was only one Pro model this year and it was enough – that there was nothing left to fix with a T Pro is a testament to how good the OnePlus 8 Pro is. And the company knew it, this is its most expensive product to date. The price is comparable with flagships...
<!––NOFDP 2825 ––>