My top 5 phones of 2020 - Ro
<!–– ERROR Retrieving Feed 2872 ––> 2513 Imported from a malfunctioning feed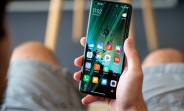 My outlook on this year's smartphone market is in stark contrast to the year as a whole. I actually feel like 2020 was a better year for smartphones than 2019, seeing technologies introduced last year rapidly evolve and mature.



Just take a look at how fast we jumped from 90Hz displays to having 120Hz and even 144Hz bright, energy-efficient OLEDs. Even LCDs have been improved in this regard so now midrangers employ HRR panels.

Under-display fingerprint readers have taken a big step too. I'm still using my trusty OnePlus 7 Pro, which boasted probably the fastest UD fingerprint reader...
<!––NOFDP 2825 ––>