Oppo A93 5G specs, price, and design revealed by China Telecom
<!–– ERROR Retrieving Feed 2872 ––> 2513 Imported from a malfunctioning feed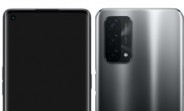 Oppo introduced the A93 last October and the company will soon follow it up with its 5G variant that's appeared on China Telecom with its specs, images, and price.

The Oppo A93 5G (PEHM00) looks different from its 4G counterpart. It sports a curved screen with a punch hole for a single camera and has rear cameras housed inside a rectangular island.

The A93 5G is powered by the Snapdragon 480 SoC, runs Android 11, and has 8GB RAM and 256GB storage onboard. It packs a 6.5" FullHD+ screen, and while the listing doesn't tell us its type, we are likely looking at an AMOLED panel since the 4G...
<!––NOFDP 2825 ––>