JD teases vivo X60 Pro+ with Snapdragon 888 chipset, advanced camera and leather back
<!–– ERROR Retrieving Feed 2872 ––> 2513 Imported from a malfunctioning feed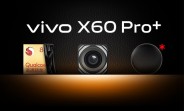 The vivo X60 and X60 Pro were unveiled just before 2020 ended with Exynos 1080 chipsets. The event ended with a promise to release a X60 Pro+ in late January. We're not there yet, but Chinese retail giant JD is teasing the new phone by lifting the veil slightly.

It posted three images. One has the Snapdragon logo and an 8 peeking through. The next shows a camera. The third one is tricky – is that a lens, perhaps? That might make sense as the X60 series features ZEISS glass.





vivo X60 Pro+ teaser: Snapdragon 888 • Advanced quad camera • With ZEISS optics

Leaked renders of the...
<!––NOFDP 2825 ––>