Samsung Galaxy S21 and S21+ pre-orders will come with free Galaxy Buds Live and a SmartTag
<!–– ERROR Retrieving Feed 2872 ––> 2513 Imported from a malfunctioning feed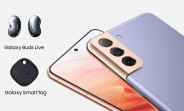 Here is confirmation for the rumored pre-order perks for the Samsung Galaxy S21 and S21+ – a pair of Galaxy Buds Live and the new Galaxy SmartTag Bluetooth tracker. That's €200 of value in total (€30 of which is the Tag).




S21 pre-order freebies: Buds Live and SmartTag for S21 and S21+ • Buds Pro and Tag for the S21 Ultra

The Galaxy S21 Ultra will get the better package with the Galaxy Buds Pro. The Buds Pro (expected to cost €230) and the SmartTag will be unveiled at tomorrow's Unapcked event alongside the S21 trio.

@evleaks has more to share – animations showing the S21 trio...
<!––NOFDP 2825 ––>